寒い日が続いていますね、京都でも雪が降って積もったり…
ハウスでは有志で大文字山に登り、雪だるまを作りに行っている人もいました!上手い!
そんな中、筆者は風邪をひいてしまいました…みなさん風邪をひかないようにいっぱい食べて、暖かくして、ゆっくり睡眠をとって元気にお過ごしください!(筆者ができていなかったことです…笑。)
さてさて、春期入寮生への応募ありがとうございました。
2月8日に行われた面接の結果、まだ春期入寮生の枠に空きがあるということで
二次募集を行うことになりました。
*今期は国籍定員オーバーのため日本・韓国国籍の方は対象外です。
日程は以下の通りです:
・願書締切:2014年3月3日 午前9時必着
・面接日   :2014年3月8日 *時間は個別に連絡。
応募方法など詳細は以下をご覧ください Guideline
公式HP http://hdbkyoto.jp/
皆さんのご応募お待ちしております!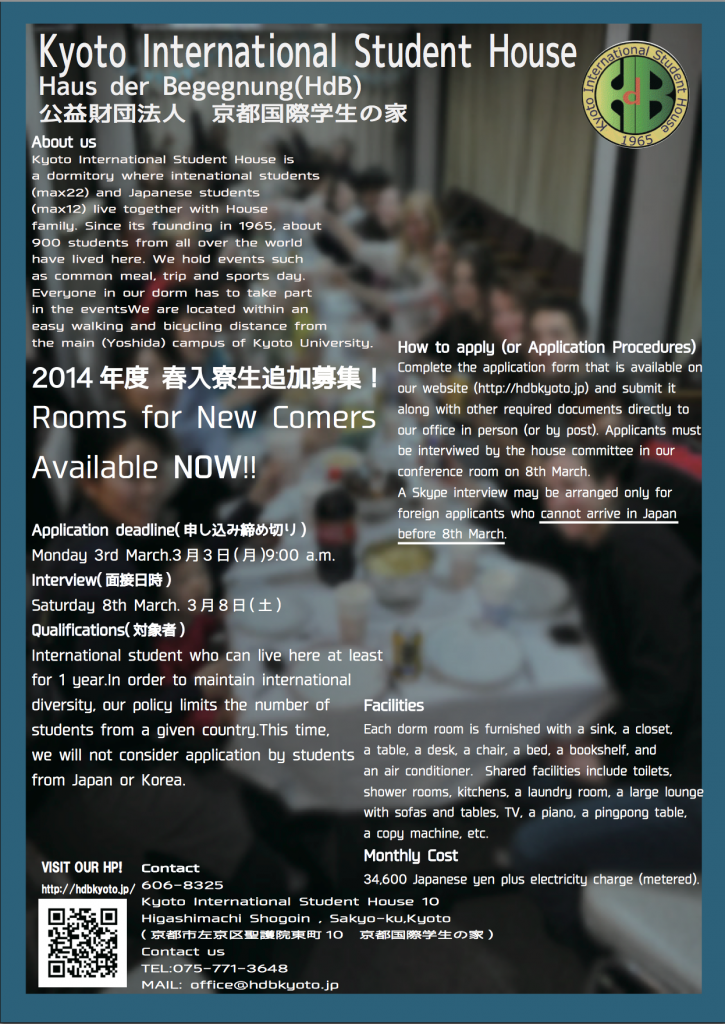 Thank you for your application to our dorm for the Spring Semester!
After the interview held on 8th Feb, we still have some room for additional applicants, so we will hold another interview on 8th March.
Application forms must arrive at the Kyoto International Student House before 9:00 a.m. on 3rd March.
For details, please refer to the  Guidelines for Applicants.
Applicants: undergraduate or graduate students
※ Due to the policy that no more than three students of one nationality can be accepted,
we are not accepting further applications from students with Korean and Japanese nationalities.
Schedules:
– Application Deadline: 9:00 a.m.  on 3rd March (Mon), 2014
– Date of Interview: 8th March (Sat), 2014 (Exact time for individuals to be informed later)
For more information, please see below:
We are looking forward to your application.