こんにちは!PR当番です!
先日第一回目のコモンミールが行われました。私はヘルパー(cookのお手伝い)をしました。とっても楽しかったです!おいしかった〜!!
今回はcookの一人が書いてくれました、どうぞ!
What appeals to me in HDB? Out of question, group activities featuring cultural exchanges, potlucks and something else alike. Common meal is a tradition with a long history in HDB. Twice a month, we look forward to savoring gourmet food of different culinary skills on the evening of Friday. A congenial environment builds up as every member take active part in such activities regularly.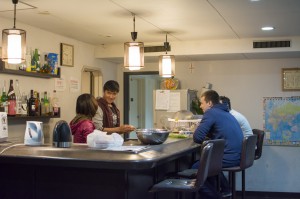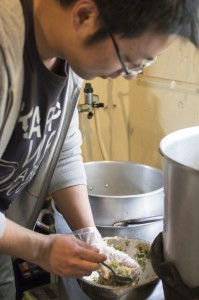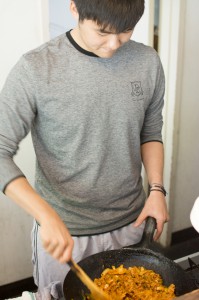 The dinner party kicked off at 6:30 on Friday. Five amateur cooks hailing from Japan, China, Korea, Thailand and Russia pulled off Chinese hotpot, Japanese bean starch noodle salad, Korean fried pork with kimchi, Pad Ka Pao Gai (Stir fried chicken and Thai basil), and Russian fish soup. What an amazing dinner!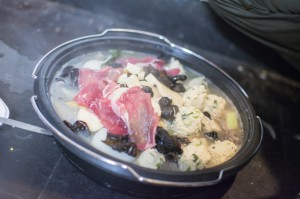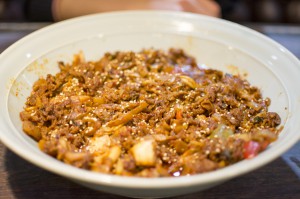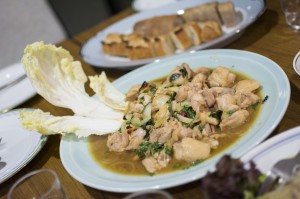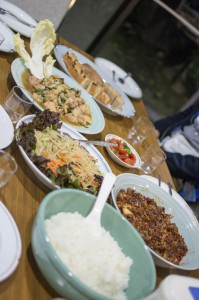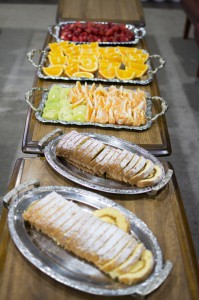 Communication went smoothly among cooks and their assistants as they took on a concerted effort to present us their best cuisine. It was the first introduction for many of us to various food cultures and diverse dining etiquette from different countries.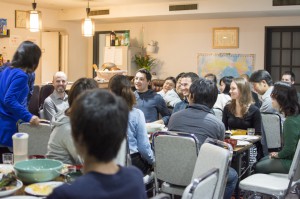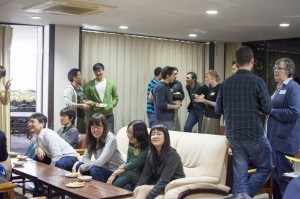 Scholars of temporary residence at HDB are welcome to join us. More than ten friends who don't lodge in HDB were invited to the party last Friday. Enjoying yummy cooking by ourselves, we shot the breeze, played games accompanied by piano melodies preformed by someone. It was indeed an awesome experience!
今回は韓国人のレジデントが作った豚キムチのレシピを公開したいと思います!
とっても美味しくて、毎回好評なんですよ!お母さんのレシピだそうです。
Stir-fried kimchi with park
(for 2 people)
INGREDIENTS
pork    200g
kimchi    200g
onions    1
green onions    1/5
garlic    a piece
minced ginger    a little
red pepper powder    20g
soy sauce    20g
sugar    20g
sesame oil    10ml
sesame seed    5g (a little)
paprika    1/2
Recipe
1.Chop all vegetables and pork into bite size pieces
2.Mix ingredients and marinade (excluding kimchi)
3.Stir fry the marinaded ingredients
4.Add kimchi
5.Cook until done and serve with sesame seed on top